Press Reviews on Art Laboratory Berlin
2018-19
2017
2016
2015
2014
2013
2012
2011
2007-10

presse@artlaboratory-berlin.org
+49 172 176 5559

Archive of Press releases and reviews: (click here)


Current exhibition

Watery Ecologies. Artistic Research

Kat Austen | Mary Maggic | Fara Peluso



Left: Video still from The Matter of the Soul, Kat Austen, 2018; middle: Viva, Fara Peluso, 2016; right: Video still from Open Source Estrogen, Mary Maggic, 2015

Opening 19 January 2019, 7PM
20 January - 17 March 2019
Fri - Sun 2-6PM and by appointment

16 March 2019, 9 PM: HYDRO_PERFORMANCE Night. Performances, Talks with New Cassettes and Vinyls!
With Kat Austen, Robertina Šebjanič and Fara Peluso

Watery Ecologies. Artistic Research presents three artists pursuing research in biology, chemistry and ethnography with distinct DIY methods. Diverse approaches to the hydrosphere, the sum of the planet's water, explore the foundations of life and the threat of human impact on both the environment and our own bodies.

The Matter of the Soul examines the impact of climate change in the Canadian High Arctic through sound composition, sculpture and performance. Here, Kat Austen, an artist with a PhD in Chemistry, combines scientific knowledge, hacked equipment and ethnographic research with a strong aesthetic approach. Crucial to the work is the lived experience of being in a time of melting in the Arctic. The compositions contain field recordings of acidity and salinity, affected by arctic ice melt, using altered pH and conductivity meters; as well as samples from interviews with visitors to and inhabitants of Baffin Island and Resolute, Canada.

The work of Mary Maggic focuses on the presence and effect of endocrine disruptors in water. Not just estrogen from birth control pills, but many pesticides and other chemicals produce estrogen-like chemicals that flow into wetlands and infiltrate drinking water. Maggic's work also questions our cultural notions of gender conformity at a time when our industrial drainage has changed the environment chemically and hormonally for over a century. Maggic's projects Open Source Estrogen and Estrofem! Lab generate DIY protocols for the extraction and detection of estrogen hormones from bodies and environments, reflecting micro-performability and a potential for sex and gender hacking.

Artist designer Fara Peluso's long-term research focuses on potential uses for algae as an environmental regulator, source for sustainable materials, and aesthetic catalyser of biophilia. She proposes a closer relationship between humans and algae as an answer to our current environmental crisis. Her research and practice combine working with biotechnologists and DIY scientists with speculative and critical design to produce a myriad of innovative design and artistic solutions.
Regine Rapp & Christian de Lutz (curators)

Cooperation partners:





Part of the Vorspiel programme in partnership with the CTM and transmediale


Last exhibition

Strange Encounters with Vegetal Others
Špela Petrič





Press preview: 21September 2018, 11am (Please contact: presse@artlaboratory-berlin.org)
Opening: 21 September 2018, 8PM
Exhibition runs 22 September - 25 November 2018
Fri- Sun, 2-6 pm

Workshop with the artist: 22 September 2018, 1-6 PM

Slovenian artist Špela Petrič approaches art production with a background in Hybrid Arts as well as a PhD in Biochemistry. These dual epistemological approaches inform her work with the Plant Kingdom as part of a multi-species collaboration exploring the ontologies, methodologies, ethics and practices of care involved in our relationship to the vegetal. Her first solo show in Berlin will give an insight into her multi-species endeavour.

The green kingdom, upon which we depend for our very survival, functions on a radically different biological basis from us: seemingly inert, literally vegetative and endowed with unexplored forms of intelligence. Yet science reveals an intricate world of mysterious chemical conversations, interspecies networks and non-centralised operations alien from our own existence. Through her work Petrič proposes novel modes of human-plant communication, intercognition and exchange.

Her series 'Confronting Vegetal Otherness' is a performative exploration of such an exchange. Skotopoiesis (meaning 'shaped by darkness') proposes a biosemiotic process for intercognition between the artist and a field of cress. In a durational performance the artist stands before the field, her shadow obstructing light, contributing to a paling and lengthening in the cress, while resulting in a minute shrinking of the artist. The durational aspect forces the artist to take part in a vegetative sense of time, forcing a post-anthropocentric approach towards the nonhuman.

Strange Encounters: Metaphysics, Algae and Carcinoma uses biotechnology to overcome our difference(s) from the plant kingdom. Taking a scientific view of being at the cellular level, as well as the cell as biotechnical labour force, Petrič arranges the in vitro encounter of two types of cells: Chlorella, a free living single-celled photosynthetic algae and a human cancer cell, carcinoma of the bladder. "I am performing biopolitics, selecting, orchestrating, monitoring, documenting, narrating" remarks Petrič. "The cancer and the algae negotiate the space I allow for them. Biopower penetrates the plant just as it does the human."

A further work, The Plant Sex Consultancy, produced along with Pei Ying Lin, Dimitris Stamatis and Jasmina Weiss, proposes design-based solutions to the sexual (or pollination) problems of six plants. Somewhere between medical devices and floral sex toys, the design solutions engage our imaginations, challenging our preconceptions of vegetal agency and sentience. They also refer to a possible future where a dearth of pollinating insects necessitates drastic technological interventions. A recent study showed that over the last 30 years insect populations in German nature reserves have plummeted by more than 75%.

-Regine Rapp & Christian de Lutz (curators)

Frankfurter Allgemeine Zeitung, publishes on 26/09/2018, updated on 05/10/2018 by Joachim Müller-Jung, "BioArt" boomt : Wahrheiten, die uns nur durch Kunst bewußt werden

Labiotech.eu, published on 30/09/2018 by Clara Rodríguez Fernández, Trouble in the Soil Bed: Sex Toys for Plants



Workshop with Špela Petrič: Phytocracy in situ: Prototyping tools for the investigation of plant governance
22 September 2018, 1-6 PM

(registration necessary: register@artlaboratory-berlin.org )

In connection with the exhibition Strange Encounters with Vegetal Others

How did wheat manage to domesticate the human? From Pollan's perspective-bending "Botany of Desire" to the environmental humanities' "vegetal politics", the entanglements between plants and people are ubiquitous, mundane and often hiding in plain sight. As part of the inquiries into Vegetal Otherness, Špela Petrič set out to produce her own phytocracy-revealing onto-epistemological tools that are inspired by actual institutions/domains/cultural practices framing plant-people relations, but also playfully oblivious to their axioms and boundaries.

The open session invites participants to reflect on plant governance as governance of plants by joining in a fast and funny tool prototyping session to investigate the river Panke in the vicinity of Art Laboratory Berlin. The exercise connects to a wider questioning of artistic methodologies, mediations, narratives, with which we try to convey experiences with the vegetal that often escape words.

The workshop is based on Deep Phytocracy: Feral Songs, the work-in-progress Petrič has been developing at Nida Art Colony, Lithuania and Osmoza, Ljubljana, Slovenia.


With the generous support of








Last Events

MIND THE FUNGI
WALK & TALK #2

Tegeler Forst | 17 November 2018
Forest excursion + Lab visit to the Dept. of Applied and Molecular Microbiology | TU Berlin

Registration closed





Art Laboratory Berlin invites you to a public event of Mind the Fungi, a two-year collaborative project between the Technische Universität Berlin and Art Laboratory Berlin. Artist Theresa Schubert will offer diverse perspectives on the forest and its cultural meaning including a performance. Furthermore, together with biotechnologists from the Institute of Biotechnology | TU Berlin she will guide us through forests of Berlin and Brandenburg in search of tree mushrooms and lichens. Samples taken will form part of a two-year research project combining cutting edge biological research, citizen science and artistic research.

Biotechnologists from TU Berlin will show participants how to collect samples of fungi and lichens and preserve them for further study and cultivation. At a follow-up lab at Applied and Molecular Microbiology | TU Berlin, participants will be shown how to inoculate Petri dishes with samples for cultivation.

Berlin-based artist Theresa Schubert explores unconventional visions of nature, technology and the self. She studied media art at the Bauhaus-University, Weimar. She combines audiovisual and hybrid media with conceptual and immersive installations or site-specific interventions that may include living organisms. Thematically her works question the relation of humans to their environment and evolvement of matter and meaning beyond the anthropos.





In 2019 further workshops and labs will explore new modes of fungal biotechnology, which is currently undergoing a disruptive innovation process. Mushrooms, which are produced on the basis of renewable raw materials in the biotechnological process, will be converted, with far-reaching consequences, into packaging materials, building materials, and even leather. Together with biotechnologists from TU Berlin, citizen scientists, artists and designers, we invite you to take part in Mind the Fungi.

Mind the Fungi is a research project of Prof. Vera Meyer and Prof. Peter Neubauer of the Institute for Biotechnology, Technische Universität Berlin and Art Laboratory Berlin.
Cooperation partner:








MIND THE FUNGI
WALK & TALK #1

1) Briesetal | 27 October, 2018 (Day Excursion)
2) Lab excursion, TU Berlin | 29 October, 2018 (Evening)






Art Laboratory Berlin invites you to the first public event of Mind the Fungi, a two-year collaborative project between the Technische Universität Berlin and Art Laboratory Berlin. Artist Theresa Schubert will offer diverse perspectives on the forest and its cultural meaning including a performance. Furthermore, together with biotechnologists from the Institute of Biotechnology | TU Berlin she will guide us through forests of Berlin and Brandenburg in search of tree mushrooms and lichens. Samples taken will form part of a two-year research project combining cutting edge biological research, citizen science and artistic research.



Mind the Fungi is a research project of Prof. Vera Meyer and Prof. Peter Neubauer of the Institute for Biotechnology, Technische Universität Berlin and Art Laboratory Berlin.

Cooperation partner:





Press text as PDF



Summer Programme 2018

BioSignals
25 August 2018
No registration, free entry




From Left: Juan Duarte, Photo: Andrew Gryf Paterson; Sarah Hermanutz & Nenad Popov, Live Decomposition, Photo courtesy of the artists; Laura Beloff, Photo: Andrew Gryf Paterson

BioSignals is a series of site-specific sound art, narrations and nature-based data streams by human and nonhuman cultural producers during Summer-Autumn 2018, culminating with a contribution to the next Pixelache Festival in Helsinki in Spring 2019. The artistic content of the project will focus on creative and actual interpretations of biosemiotics, energy as media and communication. Biosemiotics is an increasingly influential paradigm of thinking which brings together biology and communication, signs and signals of life in its myriad forms. In particular it offers conceptual tools to consider communications and environmental meaning-making from a non-human perspective, including plant and lichens, animal, bacterial, elemental interactors, via tactile, aural and signal-based biochemical means.

Featured artists will include Sarah Hermanutz and Nenad Popov who will perform their audiovisual work Live Decomposition as well as Pedro Soler and contributions by Andrew Gryf Paterson, Antye Greie-Ripatti, Juan Duarte, Krisjanis Rijnieks, Krista Dintere, Laura Beloff, Lilli Tölp and Mikko Lipiäinen.

14.00 BioSignals curators present BioSignals and results from previous meetings to the public.

15.00-17.00 Walk along the Panke river - ALB presents the project 'DIY Hack the Panke'.

17.00-19.00 BioSignals Seminar: Internet of Entities
In their work Forest Law Ursula Biemann and Paulo Tavares rendered an image of the Amazon rainforest as an entity connected to the global flow of information partly via a mesh of sensors built by human activity (scientists etc.). While it is clear that via this mesh the human species receives data that is relevant to its perspective, it is important to ask how does the forest itself sense the world via this new media? If we are going towards a paradigm in which non-human entities are treated as legal persons we need to also develop an understanding how to interact with these persons in a sophisticated dialogue that legal procedures among subjects necessitate. We need to develop and learn languages, semiotic structures and strategies that ensure mutual understandings between human and non-human. What is hybrid art´s role in this endeavour?

ca. 17.30 Remote connection with Pedro Soler (in Ecuador) - Reflections on the Forest Law project.

20.00 Performance: Live Decomposition by Sarah Hermanutz and Nenad Popov.

More information on BioSignals: https://www.pixelache.ac/projects/biosignals


Produced in cooperation with





The BioSignals process is supported by Nordisk Kultur Kontakt Culture and Art programme.







Presentation | Performance

NOW. A Kinetic Life
Bidisha Das and Thomas Heidtmann

Friday, 3 August 2018, 8PM
Performance, 9pm

Sat, 4 August 2018
Open: 2 – 6pm

Sun, 5 August, 2018
Open: 2 – 6pm
Artists Talk with Bidisha Das & Thomas Heidtmann, 3pm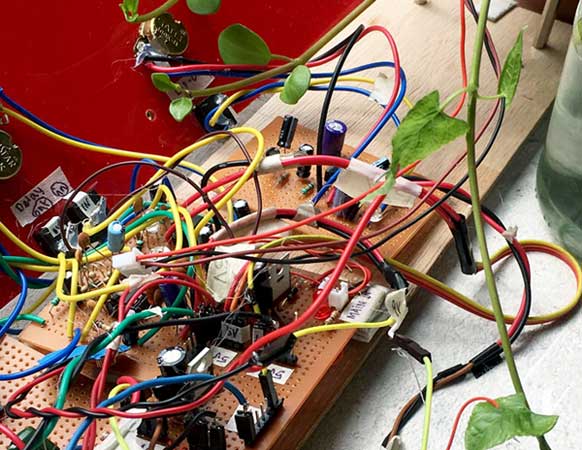 NOW – A Kinetic Life is an interactive installation that spans a visual and acoustic connection between outer space and physical spaces that surround us. It is an orchestra of movement using elements from outer space, nature and human bodies as instrumentations. It is an expression of the ever-changing moment we are living in: NOW.The installation brings in sounds from all these spaces in real-time to a modular synthesizer, the heart of the proposed installation, that Das has created exclusively for the project. The synthesizer is accompanied by CubeSat-like objects that are part of Heidtmann's "Place in Orbit" project, wearable gloves and plants with sensors.

The experience is like having multiple ears aimed at different directions and in various locations at the same time. The real-time data from the spaces and the output result are unique each time it is performed: Natural sounds and sounds from the universe, all merging together – life, that is thriving everywhere and binding us together to live in the moment, NOW.

NOW. A Kinetic Life is made possible through the bangaloREsidency-Expanded programme by the Goethe-Institut / Max Mueller Bhavan Bangalore in collaboration with Lacuna Lab e.V.


Thomas Heidtmann a Berlin-based media artist, studied at the Berlin University of the Arts. He is co-founder of Lacuna Lab e.V. as well as the founder of the Space Art Hackathon SPARTH and the Space Art Community SPARTHabitat. In his internationally presented works Heidtmann examines forms and expressions of exploration, collaboration, and communication. He is fascinated by space technologies, mirrors, and questions of visibility and observation.

Bidisha Das is an artist and explorer with an interest in Art and Science. Fascinated both in nature and technology, her medium of communication varies from sound to film, forest to the sky above, human beings to animal world and the like. Das graduated from Srishti School of Art Design and Technology, Bangalore. Her work has explored sound-art practices at the Indian Sonic Research Organization, Bangalore and she has performed at the HKW in Berlin. She has also been a team participant at Caltech-NASA to initiate a manned asteroid mission and has spent months in Indian forests and Peruvian Amazon doing conservation works.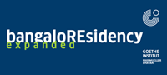 Workshop:

(Un)Real Ecologies - Microplastics
Kat Austen & Nana MacLean
7/8 July, 2018



Photos courtesy Kat Austen

Plastic has pervaded water, soil and our bodies. It is the new icon of our time. During the (Un)Real Ecologies: Microplastics workshop we will explore the presence of microplastics in the Panke River, near Art Laboratory Berlin. How do organisms and microorganisms exist with and construct with these human-made materials? We will interrogate the water samples, to discover a new understanding of the reality of the Panke's ecosystem, with plastic present and wholly a part of it - a microcosm that allows us to ask: "what is nature?"

Kat Austen is a succession of experiences and an assemblage of aspirations. She creates artworks that explore multiple knowledges, from music to embodied knowledge to DIY science, focusing on emotional connections between what we consider internal and external. Kat is Cultural Fellow in Art and Science at the University of Leeds, lectures on UCL's Arts and Sciences BASc, and is Artist in Residence in UCL's Faculty of Maths and Physical Sciences. Previous residencies include NYU Shanghai Gallery and ArtOxygen. Kat was an inaugural member of the London Creative Network programme. She is based in Berlin.

Nana MacLean studied Biology at the UvA Amsterdam and has recently finished her Master studies in Molecular Biology at the University Potsdam. Besides her studies, she has been involved in projects that crossed borders between disciplinary styles and methods - embracing both speculative design and performative collaborations. As a PhD student, Nana is currently working on microbial communities in anthropogenic landscapes and plastic polluted grounds at the GFZ Helmholtz Center Potsdam. Her research focuses on Plastic as biological habitat, and furthermore explores future ecologies and areas of research that involve storytelling and other imaginative methodologies. Nana is based in Potsdam and Berlin.
(More information)

Part of the Shared Habitats Project, organised by Institutio Media and funded by Nordic Culture Point:






Book Release Party 6 July, 2018 7PM: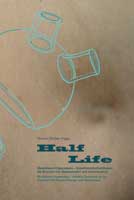 Half Life. Machines/ Organisms, Artistic Positions in the context of Climate Change and Extinction.
Käthe Wenzel/Manfred Blohm (eds.) Fabrico Verlag Hannover, 2018.

Machine-Organisms, organic machines: The dissolution of boundaries between bodies and technology is becoming part of everyday life with feeling prosthesis, neuro implants and neuroenhancement - posthumanism. Even the extinction of the species supposedly be solved by synthetic and mechanical Ersatz-species. What are the artistic perspectives on these developments? What kind of threats and promises are being negotiated here?

41 artistic positions from 15 countries provide critical and visionary views onto socio-emotional service machines - prxies and social crutches; Ersatz: Machine environments and artificial organisms; Utopia: Prosthesis, Utopian Instruments and substitute bodies; Connection: Mediator machines and trans-species communication; Autonomous and obsolete machines, past cultures of machines.

With Agnes Meyer-Brandis, Alex May, Alexander Schellbach, Andras Böröcz, Anna Dumitriu, Christa Sommerer, Claudia Schmitz, Courtney Johnson, Emma Critchley, Giuliana Cunéaz, Guy Ben-Ary, Hannes Waldschütz, Ionat Zurr, Jeongmoon Choi, Ji Hyun Park, Jinyoung Lee, John Roach, Käthe Wenzel, Kerstin Ergenzinger, Laurent Mignonneau, Lisa Glauer, Lorenzo Oggiano, Lukas Truniger, Malte Bartsch, Marie-Eve Levasseur, Michael Schulze, Nicola L. Hein, Oron Catts, Pey-Ying Lin, PSJM, Robbin A. Silverberg, Robertina Šebjanic, Saša Spacal, Špela Petric, Susanna Hertrich, Susanna Schoenberg, Suzanne Anker, Tobias Grewenig, VALIE EXPORT, Verena Friedrich, Via Lewandowsky, 431art

...and essays by KätheWenzel/ Manfred Blohm, Regine Rapp/ Christian De Lutz, Lisa Glauer/ Helge Oder.






Previous exhibitions and events: (click here)



Information on the Nonhuman Agents series from 2017 here

Information on the Nonhuman Subjectivities series from 2016-17 here

Information on the [macro]biologies & [micro]biologies series from 2014-15 here



Publications!

[macro]biologies & [micro]biologies. Art and the Biological Sublime in the 21st Century. Ed. by Regine Rapp & Christian de Lutz, Berlin 2015. More information
Press release as .pdf

Online Publication:
We are proud to share with you our online-publication of the international interdisciplinary 2-day SYNAESTHESIA-Conference, held by Art Laboratory Berlin in the summer 2013:
Synaesthesia. Discussing a Phenomenon in the Arts, Humanities and (Neuro-)Science