6 May, 1 PM
Is the Desert Still the Desert in a Digital World?: online performance with Gretta Louw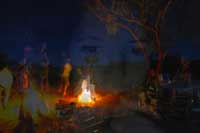 Gretta Louw, whose performance and exhibition Controlling Connectivity started off the current Time & Technology series will set up a live video link up between Art Laboratory Berlin and the Warnayaka Arts centre in Lajamanu, Australia, located in the remote central Australian desert.
Since March Louw has been taking part in a residency in Lajamanu teaching photography, video and new media to indigenous arts workers, as well as introducing them to online communication platforms. The culmination of this first program of new media training will be a real time link-up between Lajamanu and Berlin.
A live audience in Berlin will view a simultaneous performance streamed out of Lajamanu, captured by a number of webcams and presented as two large-format projections. The event will incorporate an eclectic and innovative mix of traditional dance and storytelling, as well as live VJing of documentation organised by Louw. The event will also provide and encourage the possibility of interaction and exchange between participants in both Berlin and Lajamanu. (more information)


In conjuction with the Month of Performance Art - Berlin: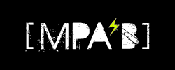 and the Warnayaka Art Center



30 March, 2012 8PM: Artist Talk with Shlomit Lehavi
and Art Laboratory Berlin's 5th Birthday!
Time & Technology

Fantastic Time Machines
Shlomit Lehavi
Sam Belinfante & Simon Lewandowski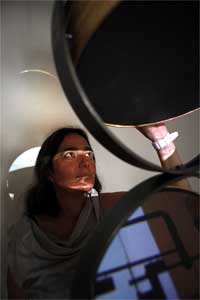 We are pleased to invite you to an artist talk with Shlomit Lehavi on Friday , March 30, 2012 at 8 pm at Art Laboratory Berlin (Prinzenallee 34, Berlin-Wedding).

The Israeli born and New York based artist Shlomit Lehavi will present her video installation Time Sifter as a part of the exhibition Fantastic Time Machines. Shlomit Lehavi works primarily with new media and multi-channel video. Time Sifter explores collective memory, collective forgetting and time based media as a contemporary time machine. By means of touching the changing projections in her work the visitor is allowed a fascinating form of participation and interaction.

The same evening we are celebrating the 5th anniversary of Art Laboratory Berlin.---
We will be happy if you can join us!


With the generous support of:

Media Partner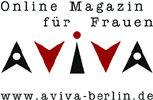 Friday Feb. 24, 2012: Tour through the exhibition with the artists (7.30 PM)
plan b (Sophia New & Daniel Belasco Rogers)
Navigating the Everyday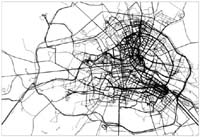 Opening: 27 January 2012, 8PM
Exhibition runs from 28 January - 11 March, 2012
Opening Hours: Fr - Su, 2-6PM
Open also on 24 February from 2-10 PM

Current Art Practices on Time and Technology

14 January, 2012
3.30PM: Tour of the exhibition Controlling_Connectivity with Gretta Louw and Regine Rapp (curator)
4PM: Artists' talk Current Artistic Practices on Time and Technology with Gretta Louw, plan b (Sophia New & Daniel Belasco Rogers) and Igor Štromajer; moderation: Christian de Lutz (curator).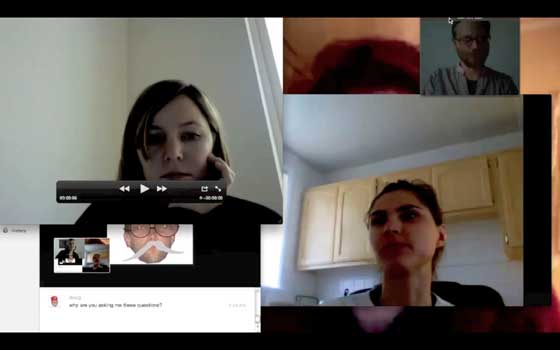 Screen shot: Controlling_Connectivity Remote Digital Performance: Berlin - New York, Gretta Louw in collaboration with Douglas Paulson, 2011

In connection with the exhibition Controlling_Connectivity by Gretta Louw and the series Time and Technology Art Laboratory Berlin is presenting an artists' talk on the theme current art practices on time and technology featuring Gretta Louw and plan b (Sophia New & Daniel Belasco Rogers) as well as the internet artist Igor Štromajer (www.intima.org). The talk will be introduced and moderated by Regine Rapp and Christian de Lutz.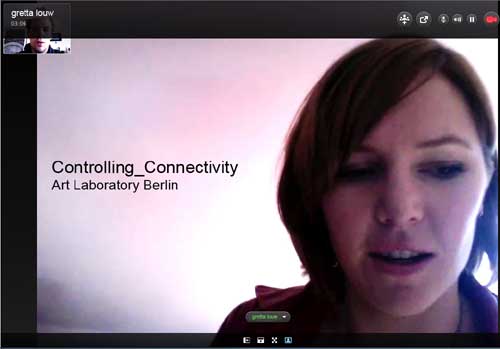 Gretta Louw: Controlling_Connectivity
Performance and exhibition

Online performance: 2-12 November, 2011
http://controllingconnectivity.tumblr.com/

Opening: 25 November, 2011, 8PM
Exhibition: 26 November, 2011 - 15 January, 2012
(winter break: 19 December, 2011 - 5 January, 2012)
Fri - Sun 2-6PM and by appointment
14 January, 2012 3.30PM: Tour of the exhibition and Artists' talk with Gretta Louw
+ plan b (Sophia New & Daniel Belasco Rogers) and Igor Štromajer; moderation: Christian de Lutz (curator).

In many ways participation in the elaborate communication networks that now underlie social interaction is no longer a matter of choice, since failure to participate is, in many demographics, akin to social withdrawal. Our decision to connect with and perform within online networks also plays an increasingly large role in determining professional success. The question, however, is what are the other effects of our growing reliance on online communication and community on our lives, culture, and society?
With the opportunity for connectivity and limitless access to information, comes the obligation to be increasingly available to receive and transmit; to be perpetually connected. The consequent erosion of true leisure time, the blurring of the traditional professional / personal, public / private dichotomies, and an information overload are creating hitherto unknown levels of psychological pressure.
Controlling_Connectivity uses the pervasiveness of internet-based social networking, as well asthe obligation and opportunity for constant connection with these platforms as a paradigm for a severe and systematic disruption of normal, socially accepted patterns of life and interpersonal interaction during a self-documented performance. Taking to its natural extreme the notion that new technologies are increasingly dictating our social interaction, professional life, and have a far reaching effect on many other aspects of daily life, Gretta Louw will complete a durational performance, living in the gallery space in complete isolation except for contact through various social networking sites and the internet.
For 10 days the artist will be available 24 hr/day for discussions, emails, comments, or interviews of both private and professional nature for any internet user wishing to take part in the project. All necessary supplies will be stored within the gallery and the windows will be blacked out to ensure that the environment is not normalised by natural light or social rhythms outside, but defined purely by the internet connection to external participants. A number of planned online events (the artist's 30th birthday, live talks with partners in New York, interviews with press) will be scheduled at intervals throughout the performance, with these social and professional pressures becoming progressively more difficult to fulfill as sleep deprivation and isolation take effect.
During the performance the artist will create and install the subsequent exhibition at Art Laboratory Berlin, with the aim of examining how extreme internet use and our reliance on online connectivity could affect psychological functioning; our ability to censor ourselves and continue to behave in a socially acceptable and comprehensible way under the constant pressure of inexorably increasing connectivity.
(more information)
With the generous support of:


Book Release Party - VISIONS NYC by Bärbel Möllmann: 30 September, 2011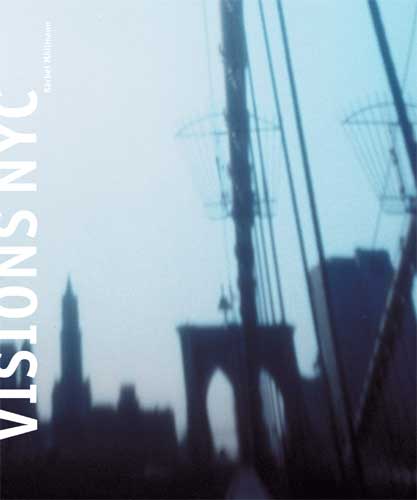 In context of the ongoing show VISIONS NYC – afterthoughts, Art Laboratory Berlin is pleased to invite you to the
Artist Book Presentation & Book Release Party
on Friday, 30 September 2011, 8pm
In the project VISIONS NYC the Berlin-based artist and photographer Bärbel Möllmann has gathered a series of amazing portraits and interviews with New Yorkers from Summer 2001, recording their individual plans, goals and dreams, and from Summer 2002 recording their reactions to the events of the previous year.
Bärbel Möllmann: VISIONS NYC.
Portraits and Interviews from New York. Berlin 2011
272 pages, 136 color photographs
30 x 25 cm (closed), 30 x 50 cm (open)
Hardcover, 4-color images
Essay: Regine Rapp (German and English)
48 interviews (each 4 – 15 min.), 4 CDs
Collectors edition, signed by the artist, Edition: 25 exemplars
150,00 Euro
With a purchase of the book on 30 September, 2011 the buyer will also receive and original print from the photo book (30 x 50 cm)
More information about the exhibition VISIONS NYC - afterthoughts here
Cooperation partner:

With the generous support of:


01 May 2011, 3PM
In connection to the exhibition:
Artists in Dialog: Al Fadhil & Aissa Deebi
My Dreams Have Destroyed My Life. Some Thoughts on Pain
(29 April -26 June, 2011)

A Round Table Discussion Al Tahrir: The Day After, 1 May, 2011, 3PM
Since January of this year a wave of protests, originating first in Tunisia, and then in Egypt, have spread across the Arab world. Demonstrators have demanded democracy and the freedom of expression. How will the ongoing changes affect the lives artists and cultural production? What has been the role of politics in the arts in the Middle East and how might this change? Supposedly new technological media such as social networking platforms have played an important role in this year's 'Arab Spring'. Is this really true, and if so what potential does technology have to foster change as well as aid in inter-cultural communication?
On May 1, 2011 at 3PM, in conjunction with the ongoing exhibition My Dreams Have Destroyed My Life. Some Thoughts on Pain there will be a round table discussion on the cultural and political changes taking place in the Middle East in the wake of the current wave of protests. The artists Aissa Deebi, who teaches at the American University in Cairo, and Al Fadhil will be joined by Munira Khayyat (Anthropologist), Heiko Wimmen (Political Scientist) and Christian de Lutz (who will be the moderator)
Aissa Deebi is a Palestinian-American artist,who has produced a body of work in photography, video, new media and the graphic arts. He is currently assistant professor in visual art, new media at the Department of Performing and Visual Arts at The American University in Cairo. An award winning artist, Deebi's work has been internationally exhibited in Germany, Qatar, UAE, Bahrain, Spain, Chile, Palestine and the United States.
Al Fadhil is an artist working in multimedia and performance. He has staged exhibitions at various venues including the Sharjah Biennale, Venice Biennale, Palais de Tokyo, Paris, and the Kuandu Museum, Taipei Since 2003 he has been the initiator of the project 'Iraq Pavilion'. He currently lives in Lugano Switzerland and Berlin.
Munira Khayyat is a PhD candidate in Anthropology at Columbia University, New York. She is currently completing her dissertation entitled A Landscape of War: On the Nature of Conflict in South Lebanon. An ethnographic inquiry into life in a rural war zone, her dissertation attends closely to the landscape, its features, practices and rhythms, to gain an understanding of the ordinary - 'naturalized' - experience of inhabiting war. From 1998 to 2000 she worked as a journalist.
Heiko Wimmen is a PhD fellow at the German Institute for International and Security Affairs in Berlin. Between 2004 and 2009 he worked as a Program Manager and Deputy Director at the Middle East Office of the Heinrich Böll Foundation in Beirut. From 2002 to 2004, he was a professional fellow of the Social Science Research Council, conducting research on coexistence and conflict in divided cities, and between 1997 and 2002, he worked as a radio journalist and producer in Beirut. He specializes in political mobilization and social movements in divided societies.

Christian de Lutz (moderator) is Co-Director and Curator at Art Laboratory Berlin. He studied Art History and Fine Arts at New York University, and is also an artist working in video installation and new media on themes of migration, new technology and inter-culturality.
More information and video of the event
With the generous support of:


19/20 February 2011 Sol Lewitt Symposium
Venue: Glaskasten, Prinzenallee 33 (next door to Art Laboratory Berlin)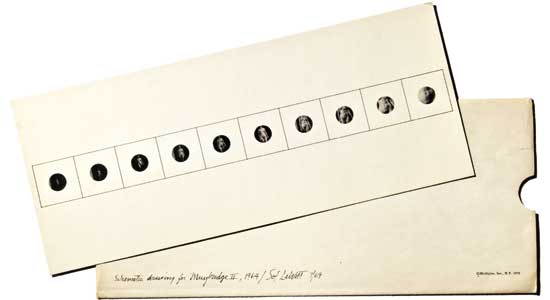 1970, Schematic Drawings for Muybridge II, 1964, New York: Multiples Inc.
An occasion in which all the artist books of Sol LeWitt are gathered into one exhibition invites further study. As we have done in previous exhibitions Art Laboratory Berlin would like to bring together artistic practice and scholarly debate, in this case in the form of a symposium. The complex nature of Sol LeWitt's artists' books specifically calls for examination by a variety of disciplines.
Beginning with a survey of the concept and the conceptual in LeWitt's work, continuing with a reflection on the medium of the book and the problem of authorship, the initial contributions will sketch LeWitt's art from art historical and literary perspectives. Additionally, contributions from the philosophy of art, musicology and mathematics will reflect on space and time, the question of a possible terminology and the phenomenon of serial geometric forms. Similarly, LeWitt's aesthetic production and his relationship to graphic design will be discussed. Finally, contributions from an artistic perspective as well as those of friends and collectors will illuminate practical and theoretical aspects of LeWitt's artistic work.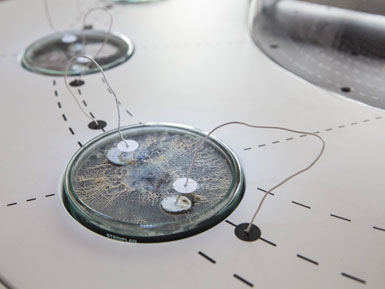 More information on the symposium

Stardust Boogie Woogie
Tania Antoshina, Mo Foster, Marcela Iriarte, Christian de Lutz, Jane Mulfinger, Bob & Roberta Smith, Jessica Voorsanger
Curated by Francesca Piovano

Exhibition runs 30 October - 28 November 2010, Fri- Sun 2-6PM and by appointment

Finissage with a reading by Mo Foster: 26 November 2010 8PM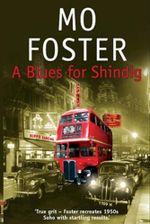 Special event: 30 November 2010, 7PM, A reading by Mo Foster at the East of Eden International Bookstore, Schreinerstr. 10, 10247 Berlin-Friedrichshain - www.east-of-eden.de

4 September 2010, 14-18h: workshop

Artists in Dialog: Alex Toland und Myriel Milicevic - Wunschgarten: Wild Urban Offshoots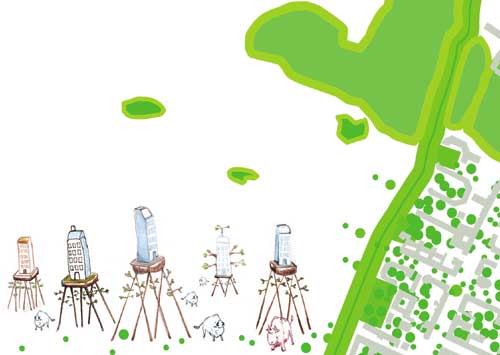 Alex Toland and Myriel Milicevic both work on the border between art and life and environmental sciences. Toland considers the project 'habitat hacking' and Milicevic describes the project as 'reconstructing cross-species life worlds'. Together they have chosen the immediate area around Art Laboratory Berlin (the Soldiner Kiez) as a place to investigate interactions between the local human population and urban flora and fauna. The exhibition space will function as a laboratory for mapping, sketching, modelling and prototyping. Wunschgarten is a series of dialogues: between the artists and the local community, between city dwellers and nature, between urban planning and urban wilderness.
As cities creep further into wild landscapes, the wild moves into cities. Urban habitats are places where plants and animals take up residence alongside people. Too often though, space for nature is sealed off by concrete constructions, resulting in a marked divide between the space occupied by humans and the rest of the biotic community. The Wunschgarten is an exploration of the city's wild features and creatures, and a vision of utopian measures that reach beyond existing mitigation schemes and municipal green-space planning. The city becomes a garden of unexpected edible opportunities and ideas to incubate and explode.
The artists encourage local inhabitants (and other visitors) to take part in the project. From the gallery space the participants can depart on a series of walks, contribute their own ideas and sketches, and in turn use the Wunschgarten as a springboard for further investigations or offshoots such as urban gardening projects, recordings of urban fauna, or evolutionary architecture and experiments in wild urban societies.
To explore these possibilities in a more concentrated setting, there will be a workshop on September 4 led by the artists to discuss and investigate, create and formulate, construct and co-inhabit the Wunschgarten and its wild urban offshoots.
01 July 2010 7PM
Evolution Haute Couture
Talk and film screening by Dmitry Bulatov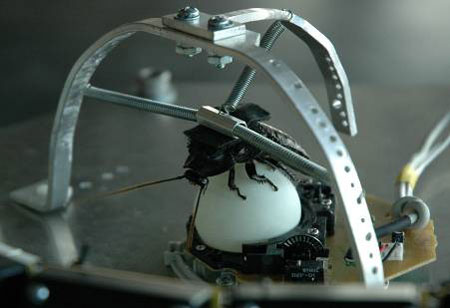 Garnet Hertz (USA) "Cockroach-Controlled Mobile Robot", 2006
Art Laboratory Berlin is pleased to present a collection of documentary films about artworks recently created using the latest twenty-first century technologies: artificial life, robotics, bio and genetic engineering. The screening has been organized by the curator and artist Dmitry Bulatov in conjunction with the National Centre for Contemporary Arts (Kaliningrad branch, Russia).
The films document artworks whose medium is living or lifelike matter, and the properties of living organisms and technologically reproduced artefacts are combined to produce the method. Art created under these new conditions of post-biology - that is, under conditions of artificially generated life - cannot avoid making this artificiality its explicit theme. We are thus again confronted with the question of the relationship between art and life in a completely new context defined by biological and abiological creations, works, and beings.
This collection is the first comprehensive overview of the current stage of contemporary techno-biological art. It provides a panorama of artistic strategies for granting and withdrawing the gift of authenticity. The analysis of these strategies opens up new possibilities for creative production and cultural commentary. In 2009 the Evolution Haute Couture project won the National Innovation Prize (Moscow, Russia), awarded annually for achievements in contemporary visual arts.
The film screening also coincides with the first volume of the anthology Evolution Haute Couture: Art and Science in the Post-Biological Age. Edited by Dmitry Bulatov. Book plus two DVD-ROMs collection (45 video documentaries), KB NCCA, Kaliningrad, 2009. (ISBN: 978-5-94620-054-7). This publication is supported by The Ministry of Culture of the Russian Federation, The Ford Foundation (The Moscow Office, Russia), The Dynasty Foundation (Moscow). Web site: www.videodoc.ncca-kaliningrad.ru/eng/
Sat 13 and Sun 14 March, 2010, 2-6PM

Presentation of the poster and storybook for "Princess I will follow you..."
by Birgit Szepanski
-part of the Printemps des Poètes Berlin 2010
&
Artist book presentation:
"Prinzenallee - ein Stück ohne Dialoge"
A Book Project by Birgit Szepanski and Regine Rapp

Princess - I will follow you...
is a poster intervention along Prinzenallee in Berlin- Wedding. With photographic motifs and text fragments (in English, German and Turkish) a visual path is laid along the street. This public text and image story plays with motifs, word and sound play, visual features and the name of the street:
Princess I will follow you....
(http://printempsdespoetes-berlin.blogspot.com)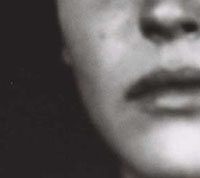 In 2008 Birgit Szepanski created a complex site specific installation at Art Laboratory Berlin, which referred to the street Prinzenallee in Berlin-Wedding as part of the exhibition series Art and Text. Over a number of weeks the artist recorded traces of the street in her films, photographs and texts. In decidedly minimal formal language she was able to unfurl the street into the exhibition space by means of language, image and sound. In this newly released publication this is further expressed in the form of an artist book

Prinzenallee - A Play without Dialog.
A Book Project by Birgit Szepanski and Regine Rapp
26 February 2010, 8PM, Book Release Party
28 February 2010, 3-6PM, Book Presentation

Art Laboratory Berlin is pleased to invite you to a presentation of the recently published artist book "Prinzenallee - Ein Stück ohne Dialoge" ("Prinzenallee - A Play without Dialog").

In 2008 Birgit Szepanski created a complex site specific installation at Art Laboratory Berlin, which referred to the street Prinzenallee in Berlin-Wedding as part of the exhibition series Art and Text. Over a number of weeks the artist recorded traces of the street in her films, photographs and texts. In decidedly minimal formal language she was able to unfurl the street into the exhibition space by means of language, image and sound. In this newly released publication this is further expressed in the form of an artist book.
(more information)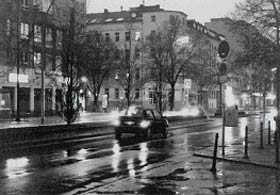 Prinzenallee - Ein Stück ohne Dialoge, Photograph, 2008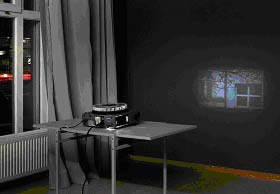 Prinzenallee - Ein Stück ohne Dialoge, Exhibition View, 2008


3 February 2010 at 7PM
Janez Janša, Janez Janša, Janez Janša
NAME Readymade
Performative Presentation
The event will present the act of "Name changing" perpetrated by three Slovenian artists who in 2007 officially, with all the required papers and stamps, changed their names to the then prime minister of Slovenia , Janez Janša (2004-08). All Janez Jansas' works, their private and public affairs, in a word their whole life, has been conducted under this name ever since.
Janez Janša will take you through a series of artistic, political, administrative and mediatic actions performed by himself together with Janez Janša and Janez Janša, with a particular focus on their latest personal exhibition entitled NAME Readymade. Works exhibited in this show (valid ID cards, passports, credit and bank cards, driving licences, birth and marriage certificates, and so on) were generated by reality itself. (more information)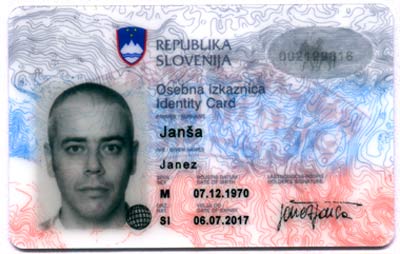 Press: article in art-in-berlin
28 November 2009, 3PM
Workshop: "Copyright and related topics for artists. Musicians, Filmmakers and other Creative Producers" with the lawyer Andreas Lichtenhahn (in German).

Free, registration necessary:
info@artlaboratory-berlin.org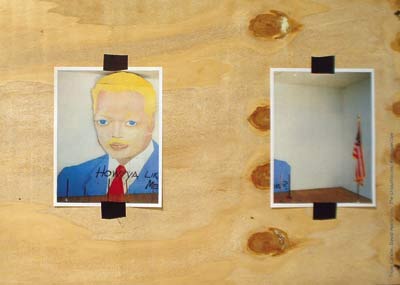 Triple Candie, David Hammons, The Unauthorized Retrospective, (detail),2006
02 November 2009, 7.30 PM
Film Screening: Strange Culture,
(D: Lynn Hershman Leeson, 2007), followed by a Round Table. The case of Steve Kurtz will be discussed from legal, cultural-political and curatorial perspectives: Eberhard Schultz (lawyer), Mark C. Donfried (Institute for Cultural Diplomacy) and Christian de Lutz (Art Laboratory Berlin); Moderated by Regine Rapp (Art Laboratory Berlin).
Kino Arsenal, Potsdamer Platz 2, 10785 Berlin
Tickets: 6,50 Euro/ 5,00 Euro reduced (Students)

http://www.strangeculture.net/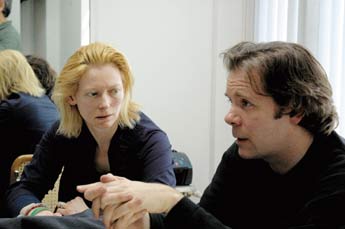 in cooperation with:


04 October 2009 at 4PM
Artist talk with Steve Kurtz as part of the exhibition
Seized
Critical Art Ensemble (CAE) & Institute for Applied Autonomy (IAA)
In connection with the exhibition SEIZED prof. Steve Kurtz gave a presentation on the theme of 'diciplinarity and its effects on art' at Art Laboratory Berlin, followed by a Q&A session.
(additional information and podcast)
30 August 2009 at 4PM (meeting point: Art Laboratory Berlin)
Artists in Dialog: Alex Toland - Personal Dispersal Mechanisms,
an Interactive Urban Exploration
Natural distribution mechanisms of plant species are often severely obstructed in the city. Tree sponsorship is a popular and effective way of re-greening city parks and streets. Individual sponsors become personally linked to individual trees while beautifying the neighborhood and creating new habitats for birds, mammals and insects.
Artist Alex Toland takes this idea a step further by creating species partnerships for a day and encouraging personal interspecies relationships as a potential distribution mechanism. As part of the series Artists in Dialog at ART LABORATORY BERLIN the artist will realize a collaborative walk and installation project by leading a group of Berlin residents through part of the green corridor along the Panke and make personal introductions between individual people and plants. (more information)
22 July 2009
At artillerie (Exerzierstr. 10, 13359 Berlin) in cooperation with Art Laboratory Berlin
Strike Anywhere
Screening of a new video by Benj Gerdes and Jennifer Hayashida
(2009, 32 minutes, English without subtitles)
Wednesday, 22 July 2009 at 9 pm
Introduction by Christian de Lutz, Art Laboratory Berlin
Followed by a discussion with the artists
artillerie and Art Laboratory Berlin are pleased to present Strike Anywhere for the first time
to a Berlin audience, following screenings at the Luleå Art Biennial in Sweden and the
Kran>>Film Space in Brussels. The latest collaborative work by the experimental
filmmaker Benj Gerdes and the poet Jennifer Hayashida, Strike Anywhere is a video
essay that takes as its point of departure Swedish "Match King" Ivar Kreuger, whose
privatization of financial crisis management strategies bears a direct relation to late-
twentieth century policies implemented by the IMF and WTO.

Between 1917 and 1932, Kreuger capitalised on shifts in global financial markets to
control over 200 companies and establish matchstick monopolies in at least 34 countries.
At the height of his success, Ivar Kreuger was worth approximately 30 million Swedish
kronor (the equivalent of 100 billion USD today) and had matchstick monopolies in at least
34 countries. The project is both a prehistory of neoliberal economics and an allegory
about social relations and desire in the wake of global capitalist expansion and excess. (more)
29. May 2009, 8.30pm

German Premiere:
On Media Reality a film by Vladimir Turner about Ztohoven
as part of the exhibition Art and Law II - Ztohoven. Media Reality
(more information)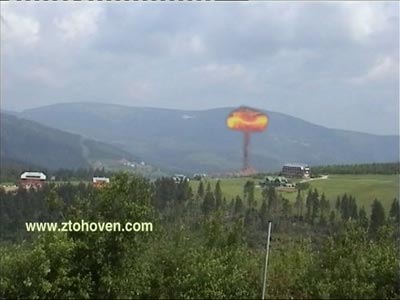 24. April 2009, 21h
Artists in Dialog. Presentation by Paola Yacoub
Paola Yacoub will present a running thread through various works, mainly photographs and montages, produced in different geographical areas ranging from Southern Lebanon to Berlin via Sweden and China.

The common point is skepticism as it was introduced in visual arts in the U.S.A. at the beginning of the 20th century. (more)
This presentation from Paola Yacoub is the first of Art Laboratory Berlin's new series of artists talks, presentations, performances and events Artists in Dialog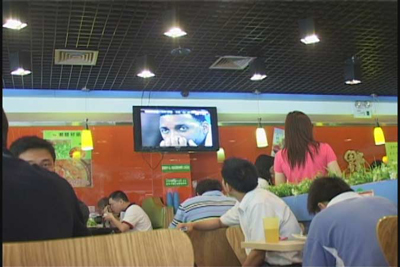 October 24, 2008
Curators from East and Central Europe II: Elena Sorokina
Subjective Events, Sometimes Recorded
Curatorial workshop with Elena Sorokina, October 24, 2008, 6pm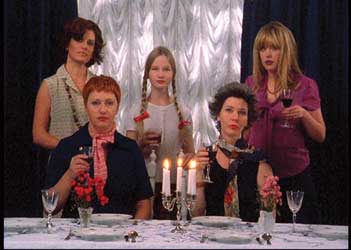 12 July 2008
Summer Celebration at Art Laboratory Berlin
8pm video compilation from Jakup Nepraš
from 10 pm DJ Nata
We would like to celebrate one and half years of successful exhibitions with you. You are cordially invited to our Summer Celebration. The latest video works from Jakup Nepraš, who took part the recent exhibition Cosmopolitics, will be shown. Later in the evening you can dance to music by DJ Nata. There will be a buffet and drinks.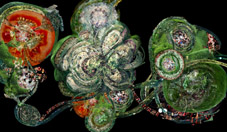 Art and Science II
Marcus Ahlers - Transposed Nodes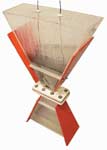 Opening: 30 May 2008, 8PM
30.05.2008 - 29.06.2008
Artist's talk: 14.06.2008, 17h

Children's workshop - SOLAR-Oven Creativity and SolarEnergy (In German): 21.06.2008
9AM - 3PM, Register until 13.06.2008. more information here (in German)

Tour of the exhibition: 29.06.2008, 3PM (more)

28 March, 2008
Art and Science I
Dmitrij Bulatov - Senses Alert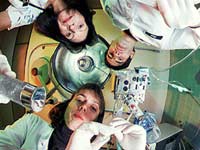 Opening: 28 March, 2008, 8PM
29.03.2008 - 05.04.2008
Artist's talk and workshop: 29.03.2008, 5PM
Tour of the exhibition: 27.04.2008, 3PM (more)
Curators from East and Central Europe I
Denisa Kera and Pavel Sedlak
Cosmopolitics: New Media Art from the Czech Republic



Workshop with Denisa Kera (curator): Curating New Media: 27.01.2008 5 PM
Artists Talk: 1.02.2008 8PM
Tour of the exhibition: 2.03.2008 3PM
(more..)
Art and Text
Corinna Koch Songs
November 9 and 10, 11am -8 pm at Art Laboratory Berlin,
Final Performance November 11 , 8PM at Brunnenstrasse 39, Studio, 2nd courtyard (2.HH)
songs is a performance that deals with the occasion of a jam session on multiple and expanding levels.
It starts off with a number of people, who will be invited to come to the gallery in order to tell the story of a song. The recordings of those stories will be transcribed the same day. (more...)
Art and Music
in cooperation with kunstraum_sumpfhahn_raumkunst
Krieg der Sprachen. Both events start at 7.45 pm. more information
19 June: Robin Hayward (violin/ bindelwald) and Olaf Bugiel (vocals/ electric guitar)
20 June: Oliver Schneller (percussion) and Workz (electronic, DJ)
23 February 2007'
pre-opening'
Film screening:
Bildungscamper.
Der Blick des Patriarchen
A documentary film
by Nicola Hochkeppel
2004, 62 min &nbsp &nbsp &nbsp &nbsp &nbsp &nbsp &nbsp &nbsp &nbsp &nbsp &nbsp &nbsp &nbsp(more information)