Next exhibition
Synaesthesia / 4: Translating, Correcting, Archiving
Eva-Maria Bolz, Ditte Lyngkaer Pedersen, Andy Holtin

Opening: 31.05.2013, 8 PM
Exhibition runs 1 June - 21 July, 2013
Open: Fri-Sun, 2-6 PM and by appointment
Synaesthesia / 4: Translating, Correcting, Archiving is the fourth and final exhibition in the Synaesthesia series at Art Laboratory Berlin. It presents three artists, each of whom has (grapheme) synaesthesia - Ditte Lyngkaer Pedersen (DK), Eva-Maria Bolz (D) and Andy Holtin (USA). Each has a unique form of expressing their synaesthetic experiences in their artwork.
While the three previous exhibitions synaesthesia dealt with art history, with media or with performative aspects the exhibition Synaesthesia / 4: Translating, Correcting, Archiving devotes itself to selected artistic strategies for decoding the phenomenon of synaesthesia. It is significant that all three artists experience different forms of synaesthetic perception.
The Danish artist Ditte Lyngkær Pedersen, professor of video in Aarhus, Denmark, experiences grapheme and spatial synaesthesia. Since 2003, she has created an extensive video archive of interviews about the multi-sensory perception of synaesthetes that document the experiences of individuals and at the same time make the unbridgeable gap between this topic and the audience clear: "Since each synaesthete, whom I met confronted me with a new spectrum of aesthetic perceptions, I realized that probably no common space of representation is to be found, but only an individual one. "



Ditte Lyngkær Pedersen, Why is Green a Red Word?, video stills, 2003 - 2010
New and old works brought together in Why is Green a Red Word? investigate the relationship between language, translation and visual thinking. Lyngkær Pedersen follows a documentary approach, by focusing on the interview and therefore creating space for an unsuspected diversity of synaesthetic expression on a global scale. For example, she interviewed Gregory Sean Kielian, who during the filming leads us through the countryside near the Berkeley University in California, as he speaks of his individual synaesthetic colour-space perception. The walk has been deliberately filmed in black and white by Lyngkær Pedersen. Colours appear again only in the video interview when he explains to her, for example, the perceived colour of the stripes on his passport. In another interview, for example Lyngkær Pedersen meets Lisa Nyberg, who experiences a form of number-space synaesthesia. In this interview, the artist has used the questionnaire method and asked synaesthetes such questions as: "how many inches away from your arm is in January?" or "how big are the days of the week?" Lyngkær Pedersen has transferred the answers to in drawings, which are then corrected by Nyberg in conversation, thus a three-dimensional temporal perception is transferred to a two-dimensional illustration. These and other findings were presented by the artist at the conference Synaesthetics and Kinaesthetics in October 2010 at the Center for Literary Research in Berlin
The grapheme and lexical synaesthete Eva-Maria Bolz lives and works in Berlin. Her work is dedicated to an exploration of the relationship between colour, text and perception. In her individual form of synaesthesia she feels an unchanging association of colours to numbers, letters, as well as whole words (lexical synaesthesia). Perception becomes a filter through which letters, words - text in itself - are translated into colours and transformed from a set of well-known characters into a message that can only be detected by means of a particular synaesthetic sensibility.

The project which Eva-Maria Bolz presents at Art Laboratory Berlin, follows her subjective perception, that colours and letters form a specific code through which a text can be translated into blocks of colour. Each letter corresponds to a specific colour. When the artist has deliberately used texts that contain intense colour descriptions such as Oscar Wilde's The Rose and the Nightingale, she asks us not only to explore the perceived differences, but also to experience the text through the eyes of a synaesthete.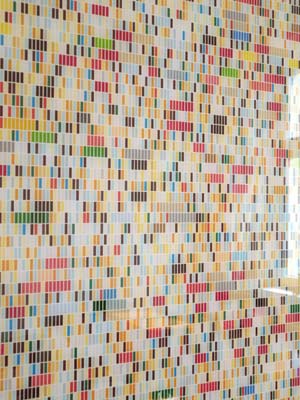 Eva-Maria Bolz, The Rose and the Nightingale, (Oscar Wilde), 2013, detail

In the exhibition Bolz will present five selected texts in the form of large colour plates. For the implementation of the panels she has opted for direct print behind acrylic glass. This emphasises the fact that the synaesthetic colouring of letters, numbers and words is not only limited to colour. In addition, often different opacities, textures and a certain three-dimensionality in synaesthetic perception are present, which do not explicitly effect individual blocks of colour. This perception can, in part, be visualized by the use of acrylic glass.
In addition to the colour plates, documentation is created in the form of an artist book, presented in a small edition (and bound by hand). Here the artistic creative process is shown through illustrations, colour tests and texts. Furthermore, a small edition of small format prints is planned, which will also included with the documentation.
Andy Holtin, an art professor at the American University in Washington DC, has grapheme synaethesia, associated with a particular colour-number association. He sees numbers in specific colours, moreover, this is influenced by a partial red-green colour blindness, affecting certain nuances. Only at the beginning of his university studies did Holtin discover that his specific graphic-numerical synaesthesia was not shared by all people.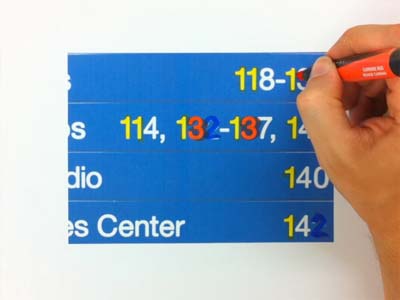 Andy Holtin, Corrections, video still, 2009
In his video Corrections you can see how a hand colours in the numbers of different signs and nameplates in photographs. Corrections demonstrates the gap between the object and subjective sense perception as well as the personal impressions of the artist himself. By speeding up the video, the act of colouring in appears grotesque as the act of artist's hand achieves a form of splapstick.
During this final exhibition the synaesthesia series, Art Laboratory Berlin will host an international interdisciplinary conference Synaesthesia. Discussing a Phenomenon in the Arts, Humanities and (Neuro)science.
(5 & 6 July, 2013, Glaskasten Theatre, Prinzenallee 33, next to Art Laboratory Berlin)


Regine Rapp & Christian de Lutz (Kuratoren)
rapp@artlaboratory-berlin.org
cdelutz@artlaboratory-berlin.org
Presse: Olga Shmakova
olga.shmakova@artlaboratory-berlin.org
With the generous support of:

Media partner:




The Synaesthesia series is supported in part by a generous gift from Michael Schröder.
Current exhibition

Synaesthesia / 3: History of the Senses
Carl Rowe & Simon Davenport
Sergio Maltagliati & Pietro Grossi
Opening: 22 March, 2013, 7PM
Exhibition runs: 23 March. - 12 May, 2013 (closed Easter weekend 29-31 March)
Open: Fri-Sun, 2-6 PM and by appointment
Performances: 22 March, 7PM; 23 March, 2PM & 7PM ; 24 March, 2PM & 7PM

History of the Senses deals with the phenomenon of synaesthesia from the point of view of art and media history. The two artistic positions refer back to different movements from the 20th Century giving Art Laboratory Berlin's four-part exhibition series on synaesthesia a historical component, whilst nevertheless dealing with contemporary issues.
Simon Davenport & Carl Rowe // Banquet for Ultra Bankruptcy
The British artist Simon Davenport and Carl Rowe currently work on a number of artistic projects that combine the performative with artistic research on a cultural history of the senses. Simon Davenport sees synaesthesia as a means to unsettle and disorient. In earlier performative works, for example, he combined heavy drum beats with the spraying of steam and the recitation of poetry. Carl Rowe's art projects, on the other hand, combine socio-political commentary and humour with culinary methodology. An important art historical reference point for him is Filippo Marinetti's Manifesto La Cucina Futurista (1930).The manifesto promoted the renewal of the Italian food system with the aim of the strengthening, revitalization and spiritualisation of modern society. It simultaneously included colours, shapes, textures, smells, sounds and noises.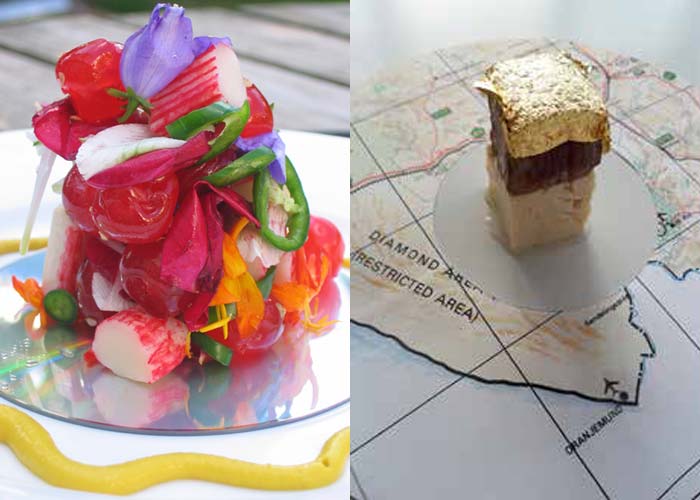 Carl Rowe & Simon Davenport,
A Banquet of Ultra Bancruptcy, 2013
A Banquet for Ultra Bankruptcy, developed for Art Laboratory Berlin, is based on the Marinetti's manifesto, which forms the starting point for a series of performances followed by an exhibition. The overarching theme of synaesthesia provides a basis for the study of aesthetics, politics and participation, as well as for the reactions of the participants. A Banquet for Ultra Bankruptcy is made up of five performances for six guests. During a six-course menu selected foods are combined with images, sounds and scents. Each course is designed as an aesthetic experience, allowing the audience to participate in simultaneous sensations.
Sergio Maltagliati & Pietro Grossi // CIRCUS 8
The Italian composer Pietro Grossi (1917 - 2002) was one of the first programmers to contribute pioneering work in computer generated music. In 1964 he was among the first to introduce the experiments of John Cage to Italy. A year later he became the professor of electronic music at Konservatorum Luigi Cherubini in Florence. He also used his composing programs to develop early computer graphics. With the use of "QBasic" he developed the program "HomeArt".Sergio Maltagliati studied under Pietro Grossi in the 1980s and developed new methods of musical compositions, in which the score underwent a significant visualisation. Maltagliati has reworked the Grossi's original programs by adapting the programming code to create a generative program that simultaneously produces sound and abstract colours and shapes.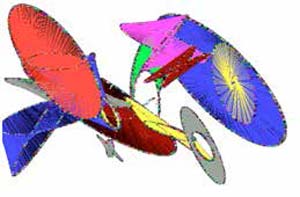 Pietro Grossi & Sergio Maltagliati Circus 8, 1986/2008
The work Circus 8 (1986/2008) consists of eight pieces and is based on Grossi's HomeArt programs, which automatically generated sound. Maltagliati has expanded Grossi's principle with software programs and added visual graphic variations. The visual data generated by the computer approximates the graphic score for a sound composition (cf. John Cage). Whilst the work Circus 8 adds a media historical dimension to Art Laboratory Berlin's Synaesthesia series, it also brings an important new component into the discussion: the computer as artificial brain with its own form of digital synaesthesia.
Regine Rapp & Christian de Lutz (curators)

Artist statement by Carl Rowe & Simon Davenport

Contemporary Art Turns to the Dinner Table: Art Events Gone Gourmet in Hg2 Magazine
With the generous support of:

The Synaesthesia series is supported in part by a generous gift from Michael Schröder.


Media partner: