DIY Hack The Panke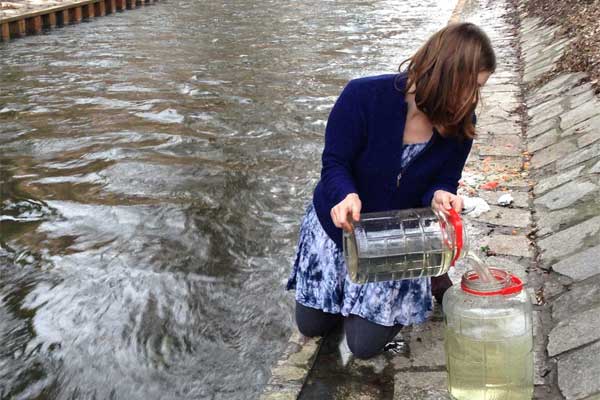 The research group DIY Hack the Panke, founded in January 2018, consists of a group of artists and scientists promoting Citizen Science projects along the Panke River in north and central Berlin.

In the next few years the upper part of the Panke, in Berlin-Buch, will be re-wilded according to new EU standards, while the river's two points of entry into the Spree, currently underground, will be uncovered. DIY Hack the Panke is interested in these fluctuating areas and the effects of re-wilding, but our main area of focus is the Panke in Wedding and southern Pankow. This part of the river, known only a century ago as the 'Stinkpanke' because of pollution from nearby factories and tanneries, is now a popular urban green space sought after by local residents.

Through interdisciplinary practice, the group aims to explore the Panke River for living organisms and critically examine its complex history of human use. Members of DIY Hack the Panke plan public workshops on topics such as river flora, fauna and microbiology; plastic waste and other pollutants; and the impact of history, culture and technology on the present-day Panke. In addition to workshops, the public is also invited to take part in a walks and talks as well as public labs to rediscover their urban environment, as well as learn and take part in Citizen Science.

Beyond public participation in the research and connected events, results will eventually be returned to the public in the form of an online blog or website. A final publication in book form is also planned.

Upcoming topics of interest:
Microplastics in the Panke

What lives in the Panke: microflora and fauna and larger creatures
Watery ecologies, community coalescence and experiments with algae
Panke mud ecologies and Winogradsky columns

Traces of the industrial Panke in soil an water

A cultural and natural history of the Panke

Members of DIY Hack the Panke include:

Ink Agop (artist)

Dr. Kat Austen (artist and chemist)

Mindaugas Gapševicius (artist)

Sarah Hermanutz (artist)

Dr. Daniel Lammel (microbiologist, FU Berlin)

Christian de Lutz (curator and artist, ALB)

Joana MacLean (microbiologist, GFZ, Potsdam)

Dr. India Mansour (biologist, FU Berlin)

Dr. Eliot Morrison (biochemist, FU Berlin and illustrator)

Fara Peluso (designer and artist)

Nenad Popov (media and sound artist)

Regine Rapp (art theorist and curator, ALB)

James Whitehead (biologist, FU Berlin)




Discussion Workshop and Livestream:

Microplastics and Coexistence
Kat Austen and Nana MacLean

Wednesday 22 April 2020 from 5:30-7:00 pm







What we consider to be our environment unequivocally and ubiquitously contains plastic. It has been found at the outskirts of human reach: at the top of Mount Everest, in Arctic ice, and at the bottom of the Mariana trench. Plastic is becoming part of our geology and the lively surrounding of many organisms on this planet - a new material and habitat providing new stories and lifeforms.

Coexistence of plastic with non-artificial entities in the environment, and with humans, is a burgeoning area of research, which has been explored through participatory interdisciplinary techniques. In the DIY Hack the Panke programme's (Un)Real Ecologies workshops by Nana MacLean and Kat Austen, participants worked together to research the coexistence of microplastic with the Panke River in Berlin-Wedding. The Sushi Roulette workshop series uses DIY chemistry to search for microplastics in fish guts.

While plastic can be detrimental to the quality of an ecosystem, plastic pollution is also a carbon sink, storing carbon and keeping carbon dioxide and methane out of the atmosphere. But is this carbon sink, itself an embodiment of industrial processes that contribute to the climate crisis, in competition or complementarity to forests? Using DIY science and artistic research, Kat Austen has been working on a new project exploring the coexistence of microplastics with birch trees for her project Stranger to the Trees* .

This Earth Day, join Kat Austen and Nana MacLean to discuss the coexistence of microplastics in the environment and what it means for nature and ourselves.
More information and video documentation


Kat Austen is a succession of experiences and an assemblage of aspirations. She creates artworks that explore multiple knowledges, from music to embodied knowledge to DIY science, focusing on emotional connections between what we consider internal and external. Kat is Cultural Fellow in Art and Science at the University of Leeds, lectures on UCL's Arts and Sciences BASc, and is Artist in Residence in UCL's Faculty of Maths and Physical Sciences. Previous residencies include NYU Shanghai Gallery and ArtOxygen. Kat was an inaugural member of the London Creative Network programme. She is based in Berlin.

Joana MacLean studied Biology at the UvA Amsterdam and finished her Master studies in Molecular Biology at the University Potsdam. Besides her studies, she has been involved in projects that crossed borders between disciplinary styles and methods - embracing both speculative design and performative collaborations. As a PhD student, Nana is currently working on microbial communities in anthropogenic landscapes and plastic polluted grounds at the GFZ Helmholtz Center Potsdam. Her research focuses on Plastic as biological habitat, and furthermore explores future ecologies and areas of research that involve storytelling and other imaginative methodologies. Nana is based in Potsdam and Berlin.


Supported by the Berlin State office for Culture and Europe:




Special thanks to Ken Rinaldo


Cooperation partners:

https://plastisphere.hotglue.me

*Stranger to the Trees is realised within the framework of the European Media Art Platforms EMARE program at WRO Art Center with support of the Creative Europe Culture Programme of the European Union"







Science by Doing. A Project with the students of the Gustav-Freytag-Schule

February-December 2019


Left, center: Microbiodiversity Workshop (Lammel, Mansour, Hermanutz) May 2019; right Mikroplastics Workshop (Austen, MacLean) Feb. 2019

Science by Doing offered the pupils of the Gustav-Freytag-Schule a wide range of events about the River Panke, spread throughout 2019. Through workshops and visits the Art Science collective DIY Hack the Panke made it possible for students to artistically explore biology, chemistry, design and ecology, and to implement their own ideas. In addition to workshops on the topics of urban ecology, microplastics (Austen, MacLean), microbiodiversity (Hermanutz, Mansour, Lammel) and wetland ecology (Hermanutz, Popov), there were performances such as the Wasserklang Orchestra (Austen), where the pupils examined the Panke using self-made instruments, which was later presented as an installation at the Berlin State Opera.

Further workshops on algae and speculative design (Peluso) introduced the students to current topics on sustainability and biomaterials. The school science club also visited Art Laboratory Berlin, the Lacuna Lab and the Futurium. Finally an art and science exhibition was presented in the school with the results.


From left: (1,2 ) Microbiodiversity Workshop, May 2019; (3) Wasserklang Orchester (Austen) May/June 2019; (4) Algea Workshop (Peluso) October 2019, (5) Wetland Ecology Workshop (Hermanutz, Popov) March 2019

Special thanks to the Gustav_Freytag-schule and Frithjof Glowinski.
Made possible with a grant from Berliner Projektfonds Kulturelle Bildung






Symbiosis in intra-flux of the Anthropocene
Saša Spačal
29. November 2019, 7:30 PM: Project presentation: Saša Spačal in converation with Dr. India Mansour



Artistic research at the Rillig Group, Ecology of Plants, Institute of Biology, Free University Berlin in cooperation with Art Laboratory Berlin

For the month of November 2019 bio media artist Saša Spačal will provide artistic research for her new project Symbiosis in intra-flux of the Anthropocene at the Rillig Group, Ecology of Plants, Institute of Biology, FU Berlin.Towards the end of the residency Art Laboratory Berlin will host a public presentation and discussion about the topics that residency covered, together with scientists from the Rillig Group.
(More on Symbiosis in intraflux of the Anthropocene)

In cooperation with:




Supported by :






This event is supported by the Fachbereich Kunst und Kultur Bezirksamt Mitte and the Bezirkskulturfonds as part of DIY Hack the Panke




Local Area Network (LAN).
Workshop with Martin Howse
13 Oct and 10 Nov 2019, 11AM-6PM





Local Area Network (LAN) open workshop is a collective, speculative investigation of local fields/particles, and energetic exchanges, towards the hacking and re-routing of energy flows and networks at all stacked levels of local geological, environmental and technological "Umwelten", forking into a forensic exhibition at Art Laboratory Berlin.

LAN works in the field - at sites along the Panke - and in the lab, punctuating an ongoing exhibition of changing processes and prototypes, examining the interface of data ecologies and the non-human through mapping, measuring and intervening within local and specific energetic transformations, entropic gradients and boundings of matters, materials and cultures.

LAN examines and identifies sites of execution, the places where energetic transformations intersect with human infrastructure and agents of abstraction and logic; intervening within the co-existent realms of algorithmic entities, of the structures and infrastructures of computation, communication with the non-human entities of the earth (mycelium, microbes).

For example, specific devices, developed in the course of collective workshops will examine relations of computation and decay, perhaps logging the growth of lichen and other parasitic fungi/forms on human infrastructures or examining branchy dew formations of radioactive particles. Workshops and devices will equally examine relations of the decay of particles, and the extension of the nuclear/geological within the interiors of plants and bodies.

The first workshop will take place at Art Laboratory Berlin on the 13th October, the second on 10th November. For the 2nd workshop participants should follow the AND operator!


Local Area Network (LAN) forms part of the exhibition Invisible Forces opening at Art Laboratory Berlin on 18 October, 2019.

Supported by the Fachbereich Kunst und Kultur Bezirksamt Mitte and the Bezirkskulturfonds



Wasserpank.
Workshop and Jam session with Kat Austen and Nenad Popov
5 October 2019, 2-6PM