[macro]biologies & [micro]biologies
Art and the Life Sciences in the 21st Century.
Exhibitions, Events and more.





from left to right : Mathias Kessler, Center for PostNatural History, Anna Dumitriu, Brandon Ballengee, Maja Smrekar

We are glad to announce our new publication:
[macro]biologies & [micro]biologies. Art and the Biological Sublime in the 21st Century.
Ed. by Regine Rapp & Christian de Lutz, Berlin 2015
More information here...

To open our 2014 programme Art Laboratory Berlin presented three days of events on open source biology and micro-organisms in connection with the transmediale festival:

24 January, 2014, 8 PM: Art & Science Dialog with Theresa Schubert and Andy Adamatzky
25 January, 2014
2-6 PM DIY Bio Lounge; bio-hackathon
7 PM Presentation by Rüdiger Trojok
6 PM - open end: DIY Bio Lounge, drop in & drop out; open bio lab; molecular cocktails; Bioluminescence installation by Sarah Chareza and Jessica Bernds
26 January, 2014
2-6 PM DIY Bio Lounge, open bio lab
3 PM: BioStrike: Open Antibiotics Discovery a presentation by Denisa Kera (hackteria.org and National University of Singapore) with a workshop by Julian Chollet
(More information)

Exhibitions:
Moving from the vast to the minute, [macro]biologies & [micro[biologies, will be a series of 4 exhibitions, performances, and talks at Art Laboratory Berlin over the course of 2014 The series moves from biosphere and landscape - systems, structures, creation and devastation (in exhibition 1) to the level of non-human, multi-cellular 'being' (in exhibition 2) and finally explores micro-organisms (in exhibition 3) , as well as the minute particles or objects that still forms life or a basis for living (exhibition 4). Additionally a programme of talks, performances and other events with artists, scientists and scholars will accompany the exhibition series.
[macro]biologies I: the biosphere // 8 March - May 4, 2014





The first exhibition explores the multiple biological structures and systems that make up a single unit on the planet Earth - the biosphere. The biosphere, which has existed for at least 3 billion years, is currently undergoing a situation of extreme change and stress due to mankind's manipulation of resources, the release of carbon based gases and environmental destruction. The four positions in the exhibition explore different ways in which 'nature' has been effected by or reacted to these recent stresses.
Participating artists: Katya Gardea Browne, Center for PostNatural History, Mathias Kessler, Alexandra Regan Toland. (more information)
[macro]biologies II: organisms // 31 May - 20 July, 2014





The second exhibition will highlight the work of artists working with multi-celled organisms, how we relate to them, and how their precariousness relates to our own situation in the 21st century.
Participating artists: Suzanne Anker, Brandon Ballengée, Maja Smrekar.
(more information)


Workshop with the artist collective C-LAB (UK) // 5-7 September, 2014
C-LAB is a London based artist collective, founded by the two artists and scientists Laura Cinti and Howard Boland, that is dealing critically with contemporary intersections and cross-fertilisation of art, science, and technology. The work of Cinti and Boland focuses on the examination and exploration of the implications, properties and peculiarities of all which is or regards organic and synthetic life. This being their incentive, they want to create a platform that is open for both artistic and scientific reflection and discourse. The event aims to involve the participants in the internationally growing practice of do-it-yourself biology and make technology accessible. In the art experiment we will explore pigments and fluorescent proteins, scientific methods and enzymes for biochemical transformations, and grow our own bacteria! (Presented by Desiree Förster and Daniela Silvestrin.)
http://c-lab.co.uk


[micro]biologies I: the bacterial sublime // 27 Sept - 30 November, 2014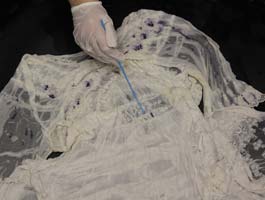 The third exhibition will be a solo retrospective of British artist Anna Dumitriu, whose work in the field of art and science brings together historical narratives, cutting edge biomedical research and an interest in ethical concerns. Dumitriu is well known for creating "The VRSA Dress" & and "The MRSA Quilt" which were made from so-called 'superbugs'. To create those works she grew bacteria onto textiles and used natural and clinical antibiotics to create patterns (sterilised prior to exhibition). The exhibition will also include works from her "Romantic Disease" series which explores the history of tuberculosis (TB) from artistic, social and scientific perspectives and covers subjects such as superstitions about the disease, TB's literary and romantic associations, the development of antibiotics and the latest research into whole-genome sequencing of mycobacteria.
www.normalflora.co.uk
(more information)

[micro]biologies II: πρωτεο / proteo // 23 January - 29 March, 2015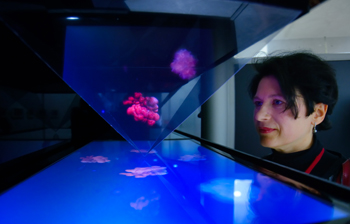 Exhibition runs: 24 January - 29 March, 2015
Opening hours: Fri-Sun, 2-6PM and by appointment. Also open on Thursday 29 January from 2-6PM
Curators Talk: 1 March, 2015, 3PM
Artist Talk: 29 March, 2015, 3PM

[micro]biologies II: πρωτεο / proteo featuring artworks by Joanna Hoffmann is the fourth and final exhibition of the [macro]biologies & [micro]biologies series at Art Laboratory Berlin. The exhibition explores the minute biomolecules that form a basis for the phenomena of life.

Joanna Hoffmann's transdisciplinary works combine art, microbiology, physics and technology. Her use of multimedia installations, 3d stereoscopy, experimental video animation and other media explore the visualization of sub-atomic and molecular as well as cosmic space. Her work relates to advanced scientific research on the phenomenon of life and to the interplay between scientific and cultural, sensual and illusive, digital and biological, natural and synthetic.
www.johoffmann.com
(more information)