We are proud to share with you our online-publication of the international interdisciplinary 2-day SYNAESTHESIA-Conference, held by Art Laboratory Berlin in the summer 2013:
Synaesthesia. Discussing a Phenomenon in the Arts, Humanities and (Neuro-)Science

Current exhibition:

bOdy pandemOnium
Immersion into Noise
works by Joseph Nechvatal

Opening: 24 April 2015, 8PM
Artist Talk & Noise Music Concert: 25 April, 2PM
Exhibition runs: 25 April – 21 June 2015
Opening hours: Fri-Sun, 2-6PM and by appointment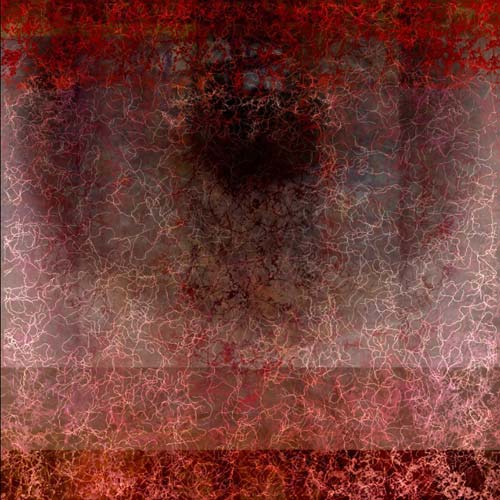 J. Nechvatal, frOnt windOw retinal autOmata, 2012,
Computer-Roboter gesteuertes Gemälde, 2x2m

Joseph Nechvatal (born in 1951 in Chicago) is a post-conceptual artist working in digital art. He is one of the most important pioneers of 'new media art,' but at the same time makes use of 'old media' (such as painting and drawing). What is phenomenal, and in our opinion relevant to the 21st century, is that his paintings are created through a use of custom artificial life software and computer robotics.

The exhibition, subtitled Immersion into Noise, is Nechvatal's first solo show in Berlin and presents recent works to a Berlin audience alongside his eponymous book Immersion into Noise (2011). In that text, Nechvatal provides visual analogies to audio noise within the powerful effects of the act of immersion.

In the bOdy pandemOnium exhibition, and in Nechvatal's work in general, the term viractualism, meaning the interface between the biological and the technological, plays an essential role: "The basis of the viractual conception is that virtual producing computer technology has become a noteworthy means for making and understanding contemporary art. This brings art to a place where one finds the merging of the computed (the virtual) with the uncomputed corporeal (the actual)."

Parallel to his theoretical research, Nechvatal has created a series of paintings and projections that show a C++ custom virus program (created with the programmer Stephane Sikora) invading, destroying and transforming his painterly art images based on intimate parts of the human body. In the exhibition at Art Laboratory Berlin, two large computer-robotic assisted paintings will be on display: frOnt windOw retinal autOmata (2012) and rear windOw curiOsites (2012).

Also on view will be one of his famous viral computer software de-generative works: Viral Venture (2011). It is accompanied by a musical score for two hundred electric guitars by the composer Rhys Chatham.

An artist talk with noise music concert of his piece 3 pOstmOrtems will take place on the opening weekend, on Saturday, 25 April, 2pm.

Curators: Regine Rapp & Christian de Lutz
Press: Olga Shmakova

This exhibition is made possible in part by a generous gift from Michael Schröder.
Media partner:




Last Exhibition:

[micro]biologies II: πρωτεο / proteo - Joanna Hoffmann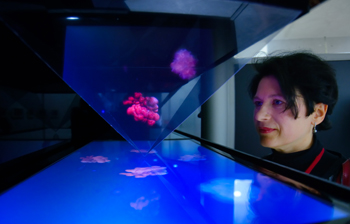 Opening: 23 January, 2015, 7PM
Exhibition runs: 24 January - 29 March, 2015
Opening hours: Fri-Sun, 2-6PM and by appointment. Also open on Friday 27 March until 9PM
Opening of the [macro]biologies & [micro]biologies Library: 30. January, 2015, 7PM
Curators Talk: 1 March, 2015, 3PM
Finissage: 29 March, 2015, 3PM

[micro]biologies II: πρωτεο / proteo featuring artworks by Joanna Hoffmann is the fourth and final exhibition of the [macro]biologies & [micro]biologies series at Art Laboratory Berlin. The exhibition explores the minute biomolecules that form a basis for the phenomena of life.

Joanna Hoffmann's transdisciplinary works combine art, microbiology, physics and technology. Her use of multimedia installations, 3d stereoscopy, experimental video animation and other media explore the visualization of sub-atomic and molecular as well as cosmic space. Her work relates to advanced scientific research on the phenomenon of life and to the interplay between scientific and cultural, sensual and illusive, digital and biological, natural and synthetic.

[micro]biologies II: πρωτεο / proteo is intended as a laboratory of imagination. It brings together a few threads of artistic research being developed within the frame of the long-term project "Hidden Topologies of Being" inspired by the atomic structure of protein molecules, named "basic bricks of life". Their complex geometries are in turn compared to Calabi-Yau spaces, in which, according to superstring theory, successive dimensions of our world are "curled up" at the subatomic level. If the scientific hypothesis about multi-dimensional nature of the world is true, then these hidden spaces are everywhere, in each "point" of the space outside as well as inside us.

What does it mean for us to live in a multi-dimensional universe, or even multiverse? What kind of tools do we have to apprehend the invisible?

The exhibition space at Art Laboratory Berlin will be transformed into a multimedia installation. The core of the exhibition will be the work πρωτεο / proteo, whose title refers to Greek root of the name protein (Gr. πρωτεῖος the first, in the lead). πρωτεο / proteo is an animation in which a cloud of particles creates a mini-universe folded in the form of Calabi-Yau space. It gives birth to a convoluted protein molecule and its dynamic molecular 'dance of life', in a poetic way brings to mind a question about the relations between the energy, matter and form. The animation creates an effect of a hologram inside a transparent pyramid. It is a kind of virtual incubator, in which the process continues to develop and repeat itself.

By using technologies as diverse as Pepper's ghost (a forerunner of holography) and 3D video, Hoffmann's work presents the viewer with a set of structures for scientific, philosophical, and aesthetic wonder and analysis. Merging interpretations of scientific data, image, sound and poetry, πρωτεο / proteo poses questions about the challenges and boundaries of our cognition creating an emotional bridge between our daily experiences and the abstractness of contemporary science.

For this exhibition Joanna Hoffmann will be working in collaboration with sound artist and composer Andre Bartetzki.
Part of the 2015 Vorspiel programme of the transmediale and CTM

Cooperation partners:




Media partner:




30. January, 2015, 7PM: Opening of the [macro]biologies & [micro]biologies Library
Parallel to the exhibition [micro]biologies II: πρωτεο / proteo we will present the [macro]biologies & [micro]biologies library, where one can study source material and documentation connected to all four exhibitions and the many events of the series. Open until 29 March, 2015.


[macro]biologies & [micro]biologies
Art and the Life Sciences in the 21st Century.
January 2014 - March 2015



from left to right : Mathias Kessler, Center for PostNatural History, Anna Dumitriu, Brandon Ballengee, Maja Smrekar

Exhibitions:
Moving from the vast to the minute, [macro]biologies & [micro]biologies, will be a series of 3 exhibitions, performances, and talks at Art Laboratory Berlin. The series moves from biosphere and landscape - systems, structures, creation and devastation (in exhibition 1) to the level of non-human, multi-cellular 'being' (in exhibition 2) and finally explores micro-organisms (in exhibition 3), as well as the minute particles or objects that still forms life or a basis for living. Additionally a programme of talks, performances and other events with artists, scientists and scholars will accompany the exhibition series.
(The [macro]biologies & [micro]biologies programme in overview)