We are proud to share with you our online-publication of the international interdisciplinary 2-day SYNAESTHESIA-Conference, held by Art Laboratory Berlin in the summer 2013:
Synaesthesia. Discussing a Phenomenon in the Arts, Humanities and (Neuro-)Science

[macro]biologies & [micro]biologies
Art and the Life Sciences in the 21st Century.

Saturday 19 July, 2 - 4 PM
Children's Workshop with Desiree Förster in conjunction with the exhibition [macro]biologies II: organisms (in German) Ages 8- 12, free (with registration: k.hergouth@artlaboratory-berlin.org)
More information

Sunday 20 July, 3PM - Artist talk with Maja Smrekar, followed by finissage



from left to right : Mathias Kessler, Center for PostNatural History, Anna Dumitriu, Brandon Ballengee, Maja Smrekar

Exhibitions:
Moving from the vast to the minute, [macro]biologies & [micro]biologies, will be a series of 3 exhibitions, performances, and talks at Art Laboratory Berlin over the course of 2014 The series moves from biosphere and landscape - systems, structures, creation and devastation (in exhibition 1) to the level of non-human, multi-cellular 'being' (in exhibition 2) and finally explores micro-organisms (in exhibition 3), as well as the minute particles or objects that still forms life or a basis for living. Additionally a programme of talks, performances and other events with artists, scientists and scholars will accompany the exhibition series.

Our 2014 Programme in Overview


Synthetic Biology workshop with C-LAB // 5-7 September, 2014

C-LAB is a London based artist collective, founded by the two artists and scientists Laura Cinti and Howard Boland, that is dealing critically with contemporary intersections and cross-fertilisation of art, science, and technology. The work of Cinti and Boland focuses on the examination and exploration of the implications, properties and peculiarities of all which is or regards organic and synthetic life. This being their incentive, they want to create a platform that is open for both artistic and scientific reflection and discourse. The event aims to involve the participants in the internationally growing practice of do-it-yourself biology and make technology accessible. In the art experiment we will explore pigments and fluorescent proteins, scientific methods and enzymes for biochemical transformations, and grow our own bacteria! Registration necessary. (Presented by Desiree Förster and Daniela Silvestrin.)
(more information)
Funded by the European Union and the Federal State of Berlin within the framework of the "Zukunftsinitiative Stadtteil" part of the
program "Soziale Stadt."


Next Exhibition:

[micro]biologies I: the bacterial sublime // 27 September - 30 November, 2014
Anna Dumitriu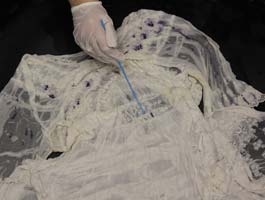 Anna Dumitriu - Communicating Bacteria

The third exhibition will be a solo retrospective of British artist Anna Dumitriu, whose work in the field of art and science brings together historical narratives, cutting edge biomedical research and an interest in ethical concerns.
Dumitriu is well known for creating "The VRSA Dress" & and "The MRSA Quilt" which were made from so-called 'superbugs'. To create those works she grew bacteria onto textiles and used natural and clinical antibiotics to create patterns (sterilised prior to exhibition).
The exhibition will also include works from her "Romantic Disease" series which explores the history of tuberculosis (TB) from artistic, social and scientific perspectives and covers subjects such as superstitions about the disease, TB's literary and romantic associations, the development of antibiotics and the latest research into whole-genome sequencing of mycobacteria. www.normalflora.co.uk

Made possible through the support of: