Synaesthesia / 4: Translating, Correcting, Archiving
Eva-Maria Bolz, Ditte Lyngkaer Pedersen, Andy Holtin

Opening: 31.05.2013, 8 PM
Exhibition runs 1 June - 21 July, 2013
Open: Fri-Sun, 2-6 PM and by appointment
Synaesthesia / 4: Translating, Correcting, Archiving is the fourth and final exhibition in the Synaesthesia series at Art Laboratory Berlin. It presents three artists, each of whom has (grapheme) synaesthesia - Ditte Lyngkaer Pedersen (DK), Eva-Maria Bolz (D) and Andy Holtin (USA). Each has a unique form of expressing their synaesthetic experiences in their artwork.
While the three previous exhibitions synaesthesia dealt with art history, with media or with performative aspects the exhibition Synaesthesia / 4: Translating, Correcting, Archiving devotes itself to selected artistic strategies for decoding the phenomenon of synaesthesia.



Ditte Lyngkær Pedersen, Why is Green a Red Word?, video stills, 2003 - 2010
The Danish artist Ditte Lyngkær Pedersen, professor of video in Aarhus, Denmark, experiences grapheme and spatial synaesthesia. Since 2003, she has created an extensive video archive of interviews about the multi-sensory perception of synaesthetes that document the experiences of individuals and at the same time make the unbridgeable gap between this topic and the audience clear: "Since each synaesthete, whom I met confronted me with a new spectrum of aesthetic perceptions, I realized that probably no common space of representation is to be found, but only an individual one. " New and old works brought together in Why is Green a Red Word? investigate the relationship between language, translation and visual thinking.
The grapheme and lexical synaesthete Eva-Maria Bolz lives and works in Berlin. Her work is dedicated to an exploration of the relationship between colour, text and perception. In her individual form of synaesthesia she feels an unchanging association of colours to numbers, letters, as well as whole words (lexical synaesthesia). Perception becomes a filter through which letters, words - text in itself - are translated into colours and transformed from a set of well-known characters into a message that can only be detected by means of a particular synaesthetic sensibility.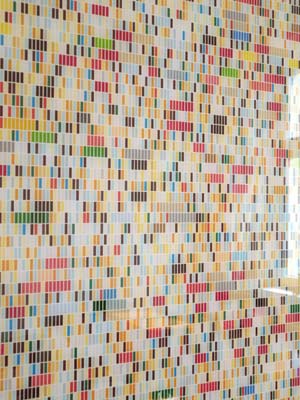 Eva-Maria Bolz, The Rose and the Nightingale, (Oscar Wilde), 2013, detail

The project which Eva-Maria Bolz presents at Art Laboratory Berlin, follows her subjective perception, that colours and letters form a specific code through which a text can be translated into blocks of colour. Each letter corresponds to a specific colour. When the artist has deliberately used texts that contain intense colour descriptions such as Oscar Wilde's The Rose and the Nightingale, she asks us not only to explore the perceived differences, but also to experience the text through the eyes of a synaesthete.
Andy Holtin, an art professor at the American University in Washington DC, has grapheme synaethesia, associated with a particular colour-number association. He sees numbers in specific colours, moreover, this is influenced by a partial red-green colour blindness, affecting certain nuances. Only at the beginning of his university studies did Holtin discover that his specific graphic-numerical synaesthesia was not shared by all people.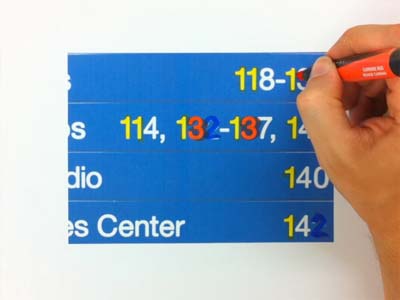 Andy Holtin, Corrections, video still, 2009
In his video Corrections you can see how a hand colours in the numbers of different signs and nameplates in photographs. Corrections demonstrates the gap between the object and subjective sense perception as well as the personal impressions of the artist himself. By speeding up the video, the act of colouring in appears grotesque as the act of artist's hand achieves a form of splapstick.
(More information)
During this final exhibition the synaesthesia series, Art Laboratory Berlin will host an international interdisciplinary conference Synaesthesia. Discussing a Phenomenon in the Arts, Humanities and (Neuro)science.
(5 & 6 July, 2013, Glaskasten Theatre, Prinzenallee 33, next to Art Laboratory Berlin)


Regine Rapp & Christian de Lutz (Kuratoren)
rapp@artlaboratory-berlin.org
cdelutz@artlaboratory-berlin.org
Presse: Olga Shmakova
olga.shmakova@artlaboratory-berlin.org
With the generous support of:

Media partner:




The Synaesthes series is supporte in part by a generous gift from Michael Schröder.
Art Laboratory Berlin Awarded Prize for Project Spaces
We are pleased to announce that Art Laboratory Berlin is one of the winners of the first Prize for Art Project Spaces and Initiatives in the Field of Visual Arts awarded by the Berlin Senate Office of Cultural Affairs.
The award honours the commitment and work of those operating project spaces and initiatives. "The award serves" according to the Senate Office of Cultural Affairs, "to support them, to secure the existing diversity and to make the activities of art project spaces and initiatives in Berlin more visible."
The prize ceremony takes place on 27 February, 2013 under the auspices of State Secretary André Schmitz
A complete statement from Art Laboratory Berlin on the award can be found at:
http://www.artlaboratory-berlin.org/assets/pdf/ALB_statement_for_prize_DE_ENG.pdf


art-in-berlin Berliner Projekträume und –initiativen

Kunst Magazin - Berliner Kulturverwaltung zeichnet Projekträume aus von Julia Schmitz

Morgenpost - Eine Klassenfahrt mit Baby und Urkunden Von Gabriela Walde

Zitty - Das erste Mal: Der Berliner Preis für Projekträume wird vergeben

Taz - Attraktiv und den Preis wert Von Marcus Woeller

Neues deutschland - Echte Berliner Spezialität. Selbstorganisierte Kunstinitiativen kämpfen ums Überleben
Von Tom Mustroph

Tagesspiegel - Küsschen, Kaffee, Kohle von Claudia Wahjudi